Helping Hands for the Blind
This charity has been set up by the blind for the blind and partially sighted. No one else can have a clearer idea of what is needed. It is the brainchild of David Chatten Smith, friends and family. David was blinded by an attack of meningitis at the age of 34. A lesser person might have crumbled at such a devastating event. But, he and his family set about devising a strategy for living which recognised all the physical and mental problems and anguish associated with the condition not only for the affected person but for all involved in their care and support. It was out of this crucible that the services the charity offers emerged in 2012.
These recognise above all else the sense of isolation that the condition brings. But, by a combination of support and advice, social activities and introduction to specialised equipment sufferers can be helped to live as normal a life as possible. To see the full range of activities on offer and more about the organisation it is worth visiting their website www.helpinghandsfortheblind.org.uk . Our Club has donated £1,000 to help with their work and we recently attended a fundraising Dinner in the Dark organised by the charity. It was enormous fun.
Our Club is particularly grateful to David's wife, Fay, members of the Macular Disease Society and the local authority's Sensory Service Team who help us with the stall which Lion Ann Vicars organises for World Sight Day and which is supported by Lions Clubs International and the United Nations. The day is designed to raise awareness of the causes of blindness (which are many), and the global efforts that are being made to tackle the affliction. We have been helped during the day by our local opticians and Breeze FM and as a result of this support, and a poster campaign, hundreds of pairs of spectacles are handed in on the day for recycling to some of the poorest nations. Throughout the day Lenny the Lion (seen below getting his orders from Lion Ann) prowls the Malls drawing attention to our stall at which visitors can see a variety of helpful aids on show, as well as seek advice on their sight issue.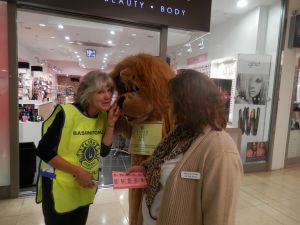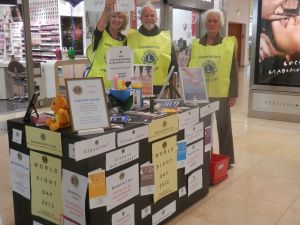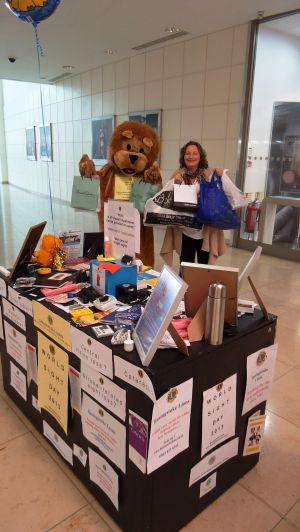 Other local sources of help for the blind and partially sighted are the SIGHT LOSS SPECIALISTS IN THE SENSORY TEAM (part of Basingstoke Social Services) on 0845 6035630 and the MACULAR DISEASE SOCIETY on 01256 356844.