Murder in the Main
SOLD OUT - No tickets available on the door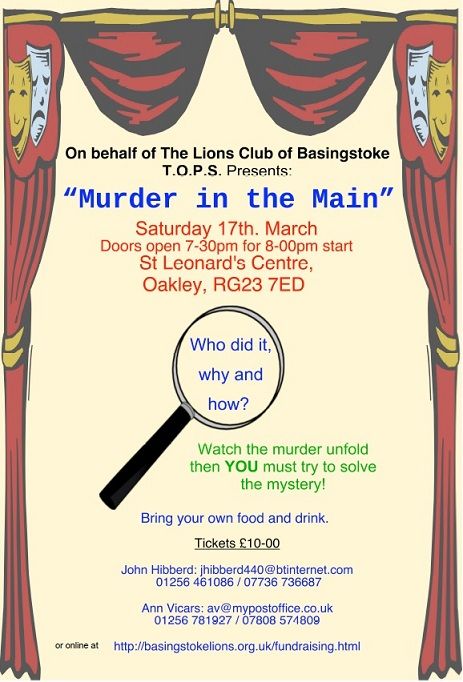 Guaranteed to set the brows a-furrowing, the brains a-ticking and probably the throats a-chortling, the Club is delighted to be working with The Oakley Pantomime Society (TOPS), to offer an evening of mystery, murder and mayhem.
Formed seventeen years ago by Ann Davis and a few local folk who had decided that Oakley should have its own pantomime, TOPS staged its first production, "Cindy's Fella". To their surprise, people liked it, so they went on to produce more pantos (who can forget last year's 'Jack in a Beanie' - just when you thought you knew all you could about 'Jack and the Beanstalk'!), cabaret nights and murder mysteries, as well as a children's theatre workshop. The result? Their productions are a regular sell-out, attended by a loyal audience of followers, both local and from outside the immediate area.
Add this factor to the large number of people who consistently attend the Lions' Club's events whatever the act, tickets are likely to go quickly and space is limited, so potential 'detectives' are strongly advised to buy their seats at the 'scene of the crime' as quickly as possible. Bring your own food and drink to help the brain spot the clues while the evening progresses...
The Basingstoke Lions Club has a packed programme for the next year featuring several new acts which promise the usual high quality for which the Club has become known. (See www.basingstokelions.org.uk)